Rutherford Investment Management
Rutherford Investment Management specializes in individual stock selection for separately managed accounts. Each client's portfolio is individually designed in accordance with their investment objectives and risk tolerance. Portfolios are comprised of securities listed on the major exchanges.
As Registered Investment Advisors, the firm serves a broad range of clients, such as individuals, pension funds, profit-sharing plans, corporations, and foundations. Portfolios are monitored for compliance with client goals and investment objectives.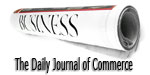 Daily Journal of Commerce Articles
Register to Receive Our Newsletter